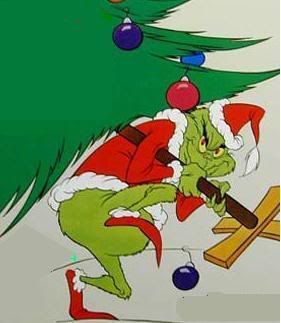 Take a look at these 5 fun Christmas events in Houston that will stop any Grinch that's trying to steal your Christmas spirit, dead in his tracks. I sifted a really long, initial list of events, but only the 5 best events made the final cut. I chose exciting things that would interest an adult and still be kid friendly too.

The finalist for my fun Christmas events list are a cruise on Buffalo bayou, Christmas Blues cruise onboard a yacht, a delightful play entitled
Christmas with Great Aunt, A candlelight tour and a new look at the famous, Star of Bethlehem.

Christmas Cruises In Houston

Houston is city founded on the banks of a bayou and getting out on the lakes and waterways in and around Houston can be a wonderful adventure anytime of year. Two cruises that I know you'll enjoy are picks on my list of things to do for the holidays in Houston.


Buffalo Bayou Christmas Cruises. Dec 19, 5-8pm. You can take a short 30-minute ride on a comfortable boat with your family or friends down the winding water trail. It'll give you a new viewpoint of Houston from the banks of our famous Bayou. Tours depart on weekends about 30-minutes apart from Sesquicentennial Park in Downtown Houston

Blues Cruise, Tuesday, Dec 22nd, 7:00pm, 10:30pm
Join the staff and crew of the the FantaSea for an exciting dinner cruise. The night will be filled with Blues, delicious food and foot stomping entertainment. If you're looking for a unique way to celebrate the holidays this year, try the Blues Cruise you'll love it.

related post:
Houston Boat Tours
Houston Yacht Cruises
Tours of Houston

Christmas Tours In Houston


(Photo credits:Montgomery County home decorated for Christmas)
If you fancy a nice stroll through the crisp Houston air during winter you may want to try touring one of Houston's most picturesque places during Christmas, Bayou Bend all decked out with lights, ribbons and Southern charm.
Candlelight Tours
:
November 27; December 3, 4, 10, 11, 17 & 18, 2009
5:00 – 7:00 p.m. (last admission)
Bayou Bend stays open late on for special nighttime tours. Guests get to enjoy the festive lights and decorations on display during the holidays at Bayou Bend. The tour of the holiday-themed exhibition covers the first floor of the house. Outside, relax with a cup of hot cider and enjoy some music and holiday cheer.

Christmas Activities in Houston
These last couple of events in Houston are showstoppers that I know that everyone will be talking about long after the Christmas season is over, The Star Of Bethlehem and Christmas with Great Aunt.

Star of Bethlehem
Houston Museum of Natural Science now through January 4 will seek to offer new insight into the scientific search for the star that begat a holiday.
Star of Bethlehem is a new planetarium show produced by the Houston Museum of Natural Science. It tries to answer some of the questions Bible skeptics have about the biblical account of the star that led the wise men to the Christ child.

Christmas with Great Aunt
Now through December 27, The Ensemble Theatre takes you on a journey with the Gilliam clan that test their faith and family when they visits their great-Aunt in Bethlehem, Texas. A town that lost their 150-year old church in a fire, but still determined to uphold the tradition of having their annual Christmas play.
See more about
entertainment in Houston
at the Ensemble Theater
Check out some of these other
holiday events in Houston
to get your Christmas cheer going. Best of all most of them are as close as a trip to
Midtown Houston
.
Even a couch potato won't mind exchanging his couch for a chair to watch a contemporary gospel play by acclaimed Houston playwright Thomas Meloncon about Christmas or a movie about the star of Bethlehem that tells the famous story with a whole new twist.
I couldn't resist adding one bonus Christmas event. The
Jesus Is The Reason For the Season
Christmas Musical being held Saturday December 19, 2009 - Sunday December 20, 2009 from 10:00am - 2:00pm Almeda Mall. It features some of the city's most talented kids the
AMA Dance Ect
. youth.